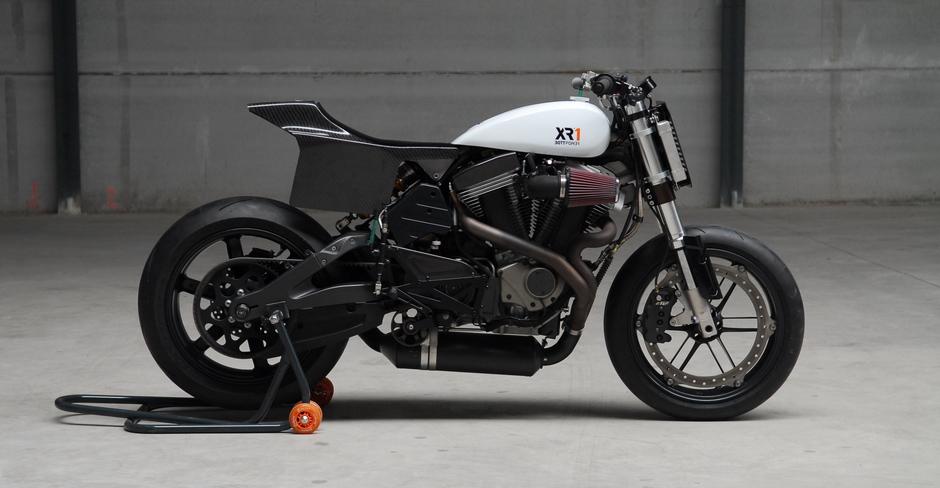 The Bott XR-1 is a sportbike with flattracker aesthetics built around a Buell XB12 donor bike.
The bike weights 179 kgs (20 kgs less than a Buell XB12 SS) and has 100 HP with lots of torque. Apart of the top fueltank, it has a secondary fueltank under the rear shock absorber, which allows a total fuel capacity of 13 liters (not bad!).

The XR1 chassis has been designed and built keeping the original Buell XB geometry, so it has the same behavior, improved by the weight reduction.
Frame stiffness has been calculated using Finite Element Analysis, and the design has been validated testing the bike on circuits with professional riders.

We can build a complete BOTT XR1 for you. We also sell a kit, so you can build your own unit if you want. We sell each part of the kit separately, so you can buy only those parts you are really interested in, and build your custom XR-1, at your own taste.

The BOTT XR1 kit has been designed to assembly it using a Buell XB a a donor bike.
Buell XB12, XB9 and Ulysses are valid models for the XR1 kit.
All the parts have been designed to be attached to existing mounting points through bolts, so to assembly an XR1 is not a complex project.

Below you will find a pdf document showing all the parts that form the different assemblies.
It is possible to buy any part or assembly separately, in this way you can configure and customize your kit at your own taste.





Besides of the standard parts that form the kit, we are creating some special options.
By the moment we have created a carbon fiber fueltank, and a carbon fiber seat.
It is possible to buy these parts instead of the standard fiberglass parts.

Engine

Air/oil cooled 1203cc Thunderstorm V-Twin, 1203 cm3 (it is possible to build it also with the 900 cc engine), 100 Horsepower at 6600 rpm, Torque 110 Nm at 6000 rpm.
Fuel system: 49 mm downdraft DDFI II fuel injection
Gearbox: 5-speed
Clutch: Wet, multi-plate, compensated
Final Drive: Belt

Frame

Steel central Spine Bottpower frame, with vibration isolation system.
Front Suspension: Showa inverted fork with adjustable compression damping, rebound damping and spring preload
Rear Suspension: Showa shock absorber
Front Brake: ZTL type brake, 375 mm stainless steel floating rotor, 6 piston caliper
Rear Brake: 240 mm stainless steel rotor, single piston floating caliper

Dimensions

Geometries are the same than the original Buell XB donor bike.
Weelbase: 52 in OR 1321 mm
Seat Height: 30.1 in OR 765 mm
Ground Clearance: 4.3 in OR 109 mm
Weight: 179 kgs (20 kgs less than the original Buell XB donor bike).
Fuel Capacity: 13 liters. The bike has a top fueltank and 2 secondary fueltanks. Original Buell fuelpump located in the left secondary fueltank.
Tyres: Front 120/70xZR17 and Rear 180/55xZR17

Video of the first test we did with the BOTT XR1. Rider is Alex Martinez.
Music by EDSOL RECORDS and filming and editing by AGARRA AIRE.